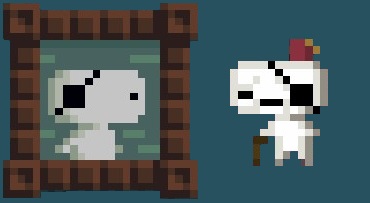 Geezer is th elderly, Fez-wearing, one-eyed Flat-head who's invitation is the catalyst for Gomez' adventure.
Background
Edit
Judging by the facts that Geezer wears a Fez, and his later dialogue with Gomez explaining "It's your turn now", it can be assumed that Geezer is aware of the 3rd dimension, the Hypercube, and went on escapades similar to what Gomez eventually endures. He also claims that having lost his one eye is part of the reason Gomez was chosen to take up the mantle of the Fez.
Geezer's House
Edit
Geezer makes his home on a small island connected by bridge to the Village, where he has displayed the following objects of note:
An old portrait of himself without his Fez.
A spyglass or camera reminiscent of the Observatory telescope.
Four large paintings of the Owls perched in their respective locations.
The following is all of the dialogue from Geezer:
Dear Gomez,
Please meet me at top of village. I have something very important to tell you.
Today is a special day.
HA! THERE ARE YOU!
TODAY IS A SPECIAL DAY.
ADVENTURE IS READY! IT'S GOMEZ TIME!
...ANY TIME NOW...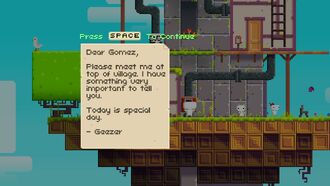 ...JUST YOU WA- !
THERE YOU GO.
IT'S BEEN SO LONG TIME.
IT'S YOUR TURN NOW.
I'M TIRED.
PLUS THERE'S THE EYE THING.
Community content is available under
CC-BY-SA
unless otherwise noted.