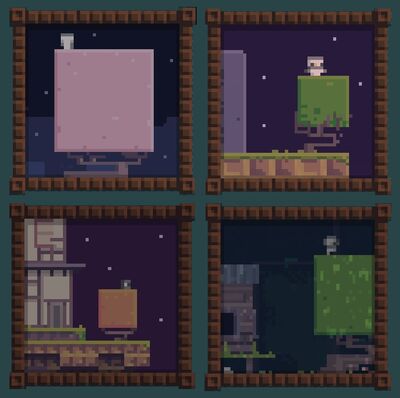 Owls are the sometimes deity, sometimes fowl, often puzzling force lurking among most of the curious history of FEZ. Owls were able to experience the 3rd dimension long before the Visitor's arrival or the power of the Fez itself was introduced to the Big-heads, thanks to the owls' ability to rotate their heads. It is implied that this has given them some measure of omniscient, and made them an object of devout worship for the Long-heads.
Talking Birds
Edit
Aside from the many monuments and effigies to owls scattered throughout the FEZ universe, there exist four living owls that Gomez can discover and speak with. Their locations are initially hinted at in Geezer's house, where a large painting is hung on each wall suggesting where the birds may be found. Another hint lies in a room in the under-construction City of Zu, where Dot urges the player to:
"HEAR THE OWLS. SEE THEIR EFFIGY. ASSEMBLE THE PARLIAMENT."
Ruins of Zu:
THE THIRTEEN CIRCLES. THE 64-BIT NAME OF GOD.
The Red Room:
A POINT OF ORIGIN. AFTER AND BEYOND.
The Waterfall:
THE MANY ARE ONE. THE ONE IS MANY.
The Windmill:
HEXAHEDRON. OCTAHEDRON. DODECAHEDRON. HER SACRED GEOMETRY.
Community content is available under
CC-BY-SA
unless otherwise noted.